Child Friendly Cardiff are holding a Pupil Q & A Webinar on Tuesday 16th June, at 10.45 am.
Information and FAQ's can be found below as well as on the Child Friendly Cardiffs website childfriendlycardiff.co.uk
To access the webinar you will need to be logged into Microsoft Teams with your Hwb account. A link will be in Microsoft Teams.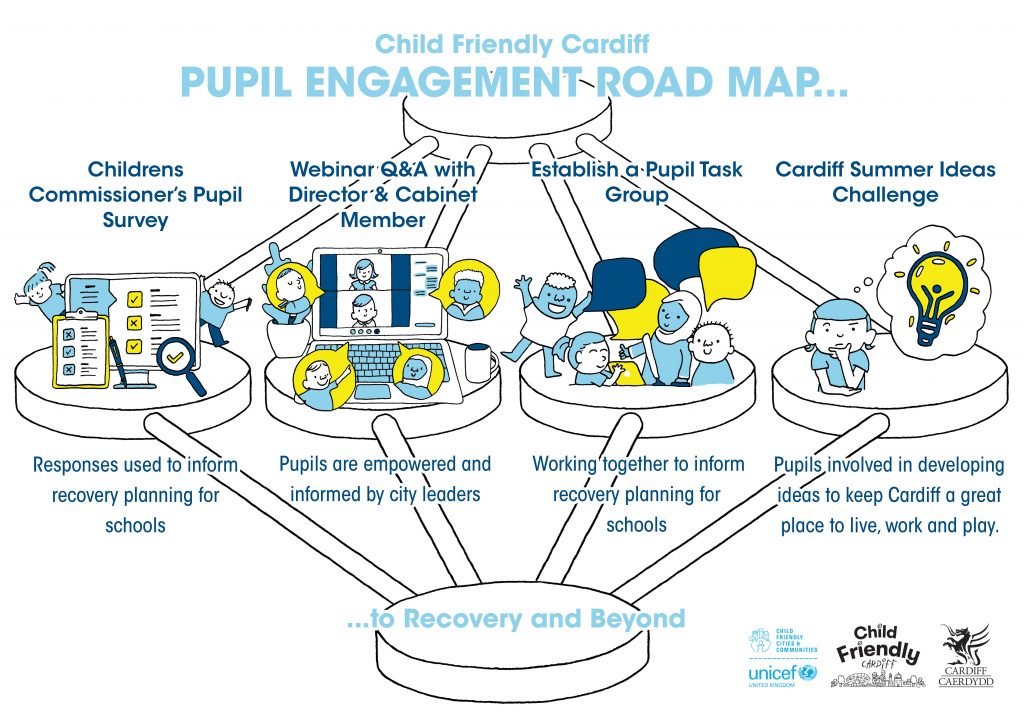 Pupil Engagement Webinar FAQs
What is a webinar?
A webinar is a live event streamed in Microsoft Teams. Presenters can share information and respond to questions submitted by the audience
What is the webinar about?
This event is about providing Cardiff pupils with the opportunity to get up to date information and ask questions about returning to school.
Who will be speaking on the webinar?
The people who are in charge of running education in Cardiff.
Nick Batchelar, Director of Education & Lifelong Learning – Cardiff Council
Cllr Sarah Merry, Deputy Leader Cardiff Council & Cabinet Member for Education
Why are we running this event?
We are facing big challenges in the city and as we plan to reopen schools we want to hear the views of pupils as this is important and you have the right to be heard.
Who will be invited to take part?
A select group of Cardiff pupils from year six to year 13. Only people that receive the link can attend the event.
Do I need special equipment to join the event?
All you need is a device that can connect to the internet phone, tablet, laptop or computer and the internet. Just click on the link we send you and then it will tell you what to do to join the event.
Can we ask a question?
Yes, we definitely want you to ask questions. You do this by typing your question in the chat box.
Will my question get answered?
We will try to answer as any questions as possible but this might not always be possible.
Will people be able to see me?
No, the only person that can be seen or heard are the people presenting. You can type in the chat box though.
Will I be safe and what happens if people are unkind?
We hope that everyone will behave and take their opportunity to listen and ask questions. If someone is not doing this we can have, their question deleted and even remove them from the event.